Recertifications
December 2016 - First Quarter (Jan-March 2017) Renewals...
For those of you with a certification expiration date of September 30, 2017, we will begin to accept renewal application on July 1, 2017. All CECs that you have previously entered have been transferred into the upgraded system. If you have any questions about the CECs previously entered, please contact Student Services at 1-888-282-7817 or hsutrain@hsuniversity.org.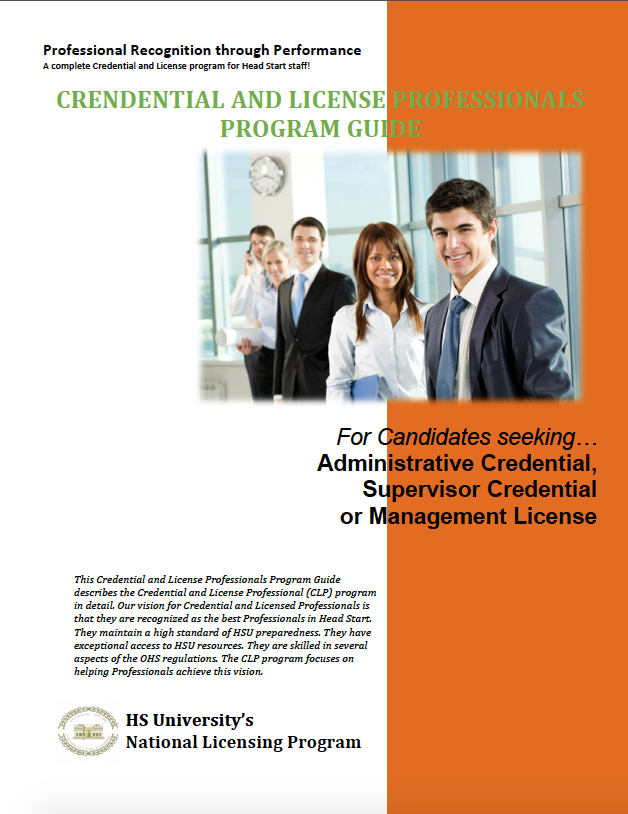 Review the CLP Program Handbook for complete details.
To ensure that your HS University credential and license examination accurately reflect the practice. HS University conducts a Role & Function Study every 3 years. This study seeks to keep HS University's eligibility criteria and certification examination content relevant. Thus, HS University's certificants are required to recertify every 3 years to remain current.
HSU's recertification program encourages practitioners to pursue continuing education so that they may grow professionally, be familiar with current trends and new technologies, develop enhanced critical skills and continue to acquire knowledge in specific focus areas. To ensure you meet all the requirements for recertification, it is recommended that you review the CLP Program Handbook prior to completing the application. This guide is updated on a regular b asis so be sure to review the updated version in the year you are due to recertify.
Guidelines for Certification Renewal
All certifications are valid for 3 years after award date. After which you may renew your certificate for 2 or more years. You may renew your current certificate level only. A credential for a different level can only be earned through a new
assessment.
The renewal process will consist of the following 4 steps:
1.
Maintain the credential continuing education credits – All certificate professionals, i.e., Administrator, and Supervisors and Management License, must maintain 15 continuing education credits (CECs) per year. Licensed Trainers must also maintain an additional 5 instructional CECs per year. (See Chapter 9 of your handbooks for more details.)Total CECs requirement needed to maintain a credential for 3 years is 45 CECs.
2.
Prepare a written "self-appraisal" – The written "self-appraisal" must include an updated autobiographical statement and a description of the renewal candidate's professional development activities, i.e., trainings, seminars or webinars that can be applied toward renewal CECs. All candidates must provide copies of training certificates for each event completed.
3.
Contact student representative or advisor – Each renewal candidate must contact their student representative or advisor to discuss submittal of documentation and meeting professional development requirements. Required documents should be submitted within the last three (3) months of credential expiration.
4.
Complete renewal form and pay renewal fee – Each renewal candidate must complete a Renewal Application Form and pay a renewal fee of $495. Renewal fees are nonrefundable and must be received on or before credential or certificate expiration date. Once you have completed the steps above, a team assessment will be completed. The team assessment will consist of a team formation that meets quarterly, a collection of candidate information which includes self-appraisal, renewal request form, and CEC documentation form. When planning your renewal, you should allow the University enough time to process renewal documentation. The process is conducted quarterly. In order to schedule team meetings for the quarter, all documentation must be submitted by deadlines below. The following schedule can be used to project dates of the renewal process:
Deadline Date
Team Assessments to occur
December 1
January, February, March
March 1
April, May, June
June 1
July, August, September
September 1   
October, November, December
All renewal applications received after deadline dates will be processed on the next deadline date. Candidates that do not submit renewal application and pay renewal fee or do not meet CEC requirements will be de-credentialed. See chapter 9 for reinstating a credential. Renewal periods are 3 months prior to credential expiration date.
Example: Student completes exam on 2/23/16. Student submits portfolio on 3/10/16. Award is given on 3/25/16. Student's expiration date will be 3/25/16. Renewal period is 12/25/16 – 3/25/17. Student submits renewal package on February 15, 2017. Team Evaluation will be held in July 2017.
Program Options...
How to enroll...