Child Development Management License
Why HS University's certification is right for you!
Child Development Management License (15 credits)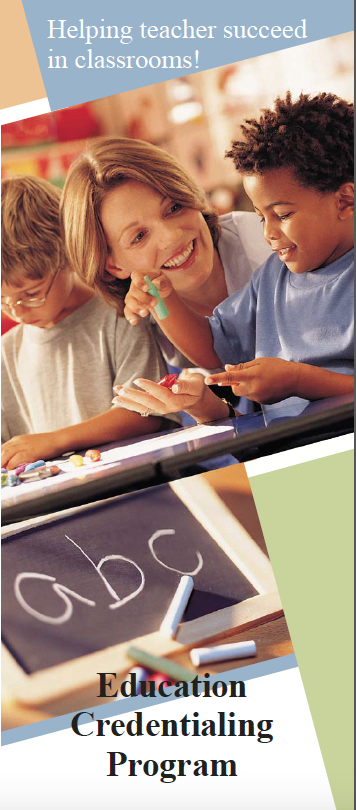 The Management License (ML) program is designed for professionals who are responsible for ensuring the professional development of Head Start teaching staff. Candidates enrolled in this program usually have 2 years or more experience administering Head Start training curriculum. The Management License program is designed to identify leading trainers who can deliver superior education training events, conferences andseminars on Head Start standards. Candidates enrolled in this program will have a competitive edge in their career and will be a vital resource in today's Head Start training community. In addition to the national recognition, candidates are provided with a valuable set of resources to aid them in becoming some of the best trainers in the Head Start community.
A management license at HS University is an "educational process" of establishing the qualifications of professionals in Head Start, Early Head Start, Migrant Head Start, American Indian/Alaska Native and Early Childhood employees. The process consists of the attainment of a specific skill level and knowledge of regulations and the assessing of the candidate's educational background and experience. A license is then awarded to the professional who meets the standards set for the licensing process. It signifies that a student has enrolled, attended and successfully completed the requirements of a specific early childhood education services area within a Head Start program. The management license process usually takes about 36 weeks to complete and requires 15 credits.
The Management License in Child Development provides a basic academic foundation and professional development for education and teaching staff. An important professional credential, the license offers Head Start Education and Teaching staff an opportunity to advance their careers and serve children and families more effectively. A license is a "collegiate diploma". It is a post-secondary academic process of establishing the qualifications of professionals working in a management or trainer position in Child Development service areas.
Students are prepared to communicate effectively, learn and use new technology, think critically and creatively and demonstrate cultural awareness. The courses are designed for students who intend to pursue advanced study in early childhood education or a related discipline. The structure and curriculum of the CD license are designed to ensure consistency of management of education staff.
This course is designed to help you develop and conduct . is designed for those individuals who are responsible for training and professional development to acquire skills for training and procedural management of education services trainings. The course will help you build comfortable rapport with staff and buy-in for new health service procedural changes, deliver health services standards logically and simply in a brain-friendly fashion, orchestrate the optimum environment for training, engage the audience in multi-faceted, ingenious ways to facilitate health service compliance, use and combine compelling audio and visual aids to utilize holistic thinking of family engagement systems and apply health service strategies for quality services.
Learning Outcomes
Upon successful completion of all program requirements, graduates will be able to:
| | |
| --- | --- |
| 1. | Identify a variety of current and historical theoretical approaches to Early Childhood Education |
| 2. | Identify and assess the elements that determine quality in an early childhood setting |
| 3. | Articulate the beginnings of a program's philosophy of Early Childhood Education |
| 4. | Identify and evaluate ethical issues that may be encountered in the field of Early Childhood Education |
| 5. | Plan, implement and evaluate age appropriate and individually appropriate activities. Also plan curriculum that is based on child development knowledge observations and assessments of typical and atypical children from culturally diverse backgrounds |
| 6. | Create and evaluate a learning environment that supports children's physical, social, emotional, creative, language and cognitive development |
| 7. | Identify and apply positive approaches to discipline that encourage children to develop self-control and self-esteem |
| 8. | Create strategies that will support and maintain positive, collaborative relationships with families |
| 9. | Recognize current issues and policies that affect young children and their families |
| 10. | Identify and communicate effectively with other professionals concerned with supporting children's development and well-being |
| 11. | Identify sources and participate in opportunities available for professional growth |
| 12. | Demonstrate competence in integrating theory and practice in early childhood programs serving diverse populations of children and their families |
| 13. | Reflect, analyze and evaluate their teaching practices in order to strengthen their work with young children |
Program Length
All courses are two days or six week online in length, 15 credits unless specified otherwise. HS University students are Head Start working adults who can earn their supervisor credential at their own pace and on their own schedule. Most students attend part-time, and the normal time to complete this program is 24 weeks.
Program Cost
Cost information for HS University program is available at http://www.hsuniversity.org/tution_15.html. The tuition and fees for the entire program, at current tuition rates, are $3695 online or $3195 campus.
Program Course of Study
The following list a suggested course of study. Students must complete 15 credits in order to earn a certificate. Please contact your advisor and student representative for an individual Professional Development Plan (Plans consist of a detailed program of study requirement and Proposal for Tuition payment). Students must complete an application and pay application fee in order to receive Professional Development Plans of Study.
Certification Requirements: Click on Certification Type to find out more information!
| | | |
| --- | --- | --- |
| Ceritification Type | | Certification Requirement |
| Management License | | Management License is a "Executive Management Program." Core competencies include all supervisor competencies, plus creativity/innovation, technology management and organizational systems awareness. Technical competencies vary by content area. This is a 36 week program. Requires 15 credit hours, 3 exams and student practicum Brochure... |
| Management License w/Trainer Specialty | | Licensed Trainer is a technical addition to any of the above competencies. Core competencies include all management license competencies, plus strategic thinking, vision, and external awareness. Technical competencies vary by content area. Requires 15 credit hours, 3 exams and student practicum, with 5 credits hours in training specialities Brochure... |
How to Register...
Courses...
FAQ...